So I have been keeping snapshots of certain warriors either as they die or hit milestones and now have my first small collection of gladiators that at least made it to 50 fights to post about.  Several are almost to 60 now, but this post will show what they look like at 50.
So first up is the only dead one, D3DN3D.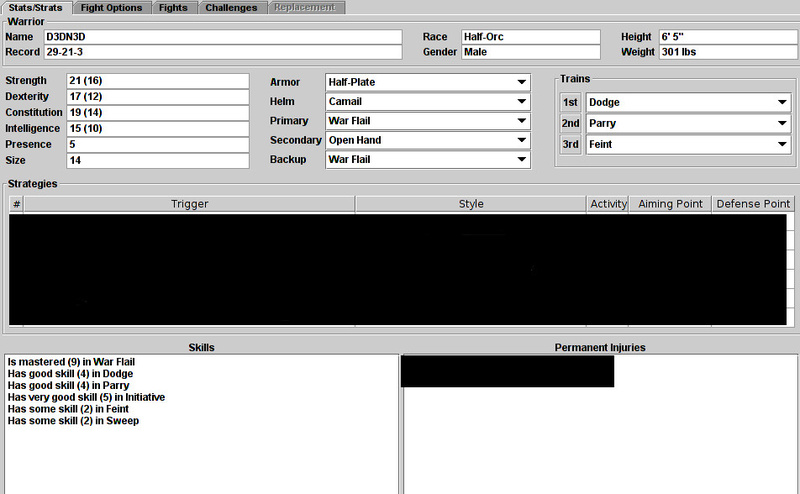 D3DN3D comes from my original team/line up, he was maybe my best build.  I ran him as a TK berserker the first 40 fights and racked up the kills and perms while getting sliced up pretty bad myself.  I switched him to Bash around fight forty but it wasn't enough to save him from dying on his 52nd fight.  He was the first person I started running in half-plate fulltime.  Several of his losses are from turtling up in full plate/helm & triple tower shields to survive elbow drops. I don't have a Horc since that I have liked as much.
Next up is N3D's teammate on team (2079) THE SCNG , DHUG DASH, my prototypical Counterstrike Dwarf attempt.  I have made many CS dwarves since, but none have matched his win % or deadliness - at least not yet. This is despite him having what I now consider a cruddy roll up, as I would consider anything with 12 PRE monsterbait at this point in my career as a manager.
DHUG is what most of my CS Dwarfs are: a somewhat large guy with a trident and a shield.  He's almost to 60 fights now at 38-20-3.  By 60 fights he should have his second master.  Like N3D he's not the smartest, but somehow gets good trains.
Next up is SARENA SKIZZWHORES.  If any of these gladiator's have mojo, it is her. Against my bp coach VIC's warnings, chose to both add points up to get her starting DEX to 24 and ran her on Calculated Attack for her first 50 fights. She started a weak 1-7 then went on a tear going better than 30-8 after that.  A majority of her fights on that run lasted about a minute & four seconds with her landing at least one perm as she demolished most of the competition.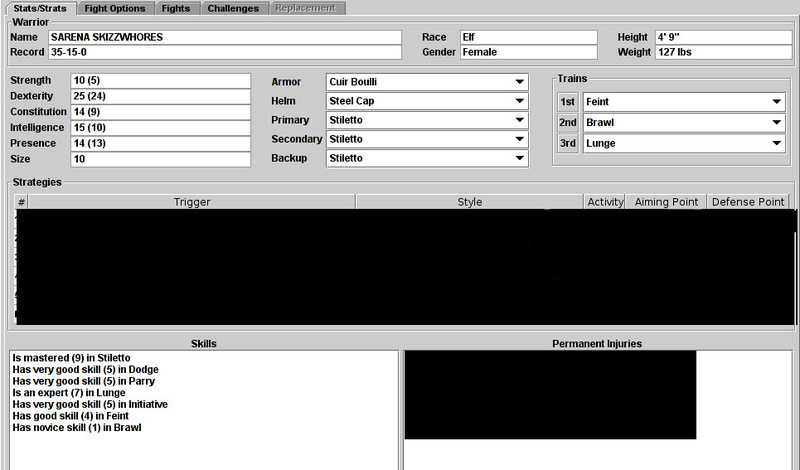 SARENA has since switched to a safer strategy now, after 50 fights. She is also veryyyy likely to have her second master by the time she hits 60 fights, with a third just behind it. After 50 I paused on the lunge training to get everything else up a few notches too.Despite her low INT she trains like a beast.  She is the basis for many of my newer finesse elves, the reason my kill % is so damn high.  She is currently 38-18-1
The last three on this list all hit 50 this round.  The first we'll look at is ANGELIQUE5FX, my first successful Halfling build. On my older account I had a quarterstaff Martial Artist with similar stats that could not get it in the win column. So I designed ANGELIQUE after being convinced by VIC that stiletto's were the neatest thing ever.  (SARENA eventually proved that right as well.)  Plus I could use stiletto and still be a Martial Artist.
She has gone on a number of win streaks and is also known to belt out a forty-five second walloping of anyone too slow to deal with her. I have not delved that far into Halfling design since, but she is a very fun fight to read each week. I still get jittery about any fight that such low Size warriors are in though. She took her first perm very recently.  I hope she continues to kick butt.
Next up we have two folks from team (2088) THE AMESA SPENTA, which was a team rollup I got with like [4] 3 PREs on it.  In the number one slot on that team is STYLE 85.  He is a second generation DHUG DASH with what I consider much better stats.
STYLE 85 started out 17-0-0, my best start ever.  I expect a better start than many active managers have managed, though I know there are several warriors that have done better.  His 17th came on the first week of this most recent Undefeated Warrior contest and I knew there was no way he was carrying all the way to 26-0-x.  Also in bittersweet irony on his 17th or 16th win he took a perm.  In that streak he did lots of chopping with his tower shield doing multiple perms with it.
Besides losing his win streak, STYLE also lost his little twin brother in that UW contest, MOSQUITO'S NEW HAND. MNH was a near clone who had lower DEX but higher INT, and whom I felt had better potential as a build. They fought the exact same way/weapon, etc.  MNH died at 17-4-1 after being elbow dropped during the contest.
Since the contest STYLE has mostly floundered. After that opening streak he is only 16-17-0.  I hope he gets his act together soon. Because SENDO is getting sick of picking up his slack.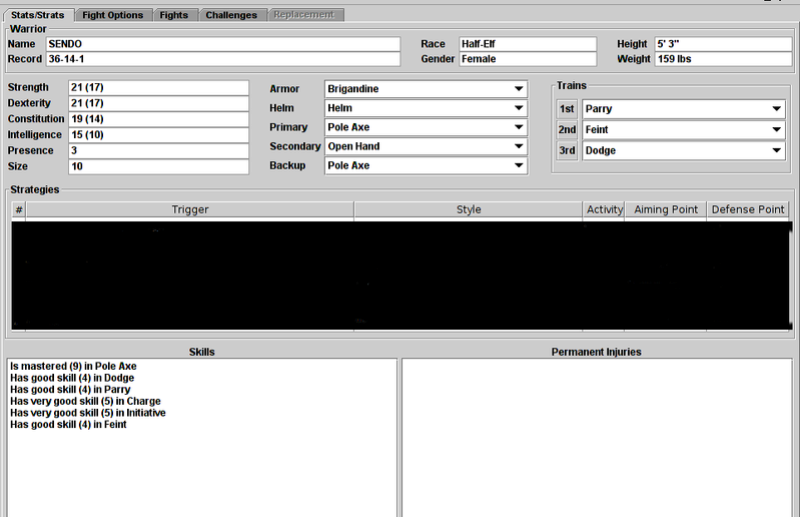 SENDO was my insistence on having a badass Half Elf after my first few floundered and/or died too young. The rollup was so good and VIC said I was wasting it on a Helf.  But I gave her a poleaxe and watched her begin bashing in collarbones and faces.  Her fights are incredible fun to read.  Whether she takes five minutes or seventy seconds, there's always a lot of blood.  It could be her race/weapon or her stats, but she just chops people up like they were canned catfood.
You've probably noticed all these 15(10) INT warriors I am running. Not really my ideal anymore.  Too many have stalled out without picking up great mojo like SARENA.  Instead I have established a new base INT of 12; meaning if a gladiator fights for me they have at LEAST a 12 INT to start with.
The last warrior I am going to share is not to 50 fights, yet. He's only just past 40. But he is a demonstration of what my young elven killers look like.  He is on track to hit 50 with a better record than any of the 6 above him.  On the one hand I am almost sick of stilettos on the other I am not sick of killing the heck out of everyone's warriors on the regs.  So yeah here's SYNCH ABERS at forty fights.
Well that's all for now. Hope some of you enjoy the write up.

Lelu Dallas

Pitt Lord





Posts

: 306





Similar topics
---
Permissions in this forum:
You
cannot
reply to topics in this forum