BLOC KA BLOCKA WARRIOR NAME TEMUJIN BORJIGIN
127-43-10 RECORD 162-88-9
FROM THE LEFT (771) TEAM NAME THE MONSTERS (1)
VIC VEGAS (341) MANAGER NAME THE BLOOD MASTER (1)
Dwarf Male RACE/GENDER Human Male

is of beastly strength ==== is of beastly strength
has agile movements ---> has blur-like movements
has a rugged constitution <--- has a resilient constitution
possesses great intellect <--- is fairly bright
is of average build ---> has a large frame

88-A WARRIOR OF GREAT RENOWN POPULARITY A CHAMPION-83
4' 2" HEIGHT 6' 5"
232 lbs WEIGHT 332 lbs

FULL-PLATE ARMOR FULL-PLATE
HELM HELM FULL-HELM
BOAR SPEAR MAIN WEAPON BOAR SPEAR
TARGET SHIELD OFF WEAPON OPEN HAND
BOAR SPEAR SPARE WEAPON BOAR SPEAR

BLOC KA BLOCKA demands to meet with TEMUJIN BORJIGIN!

MINUTE 1
The first blow is imminent
* BLOC KA BLOCKA switches to strategy 6
* TEMUJIN BORJIGIN switches to strategy 6
BLOC KA BLOCKA anxiously awaits his opening for a devastating attack
BLOC KA BLOCKA lunges murderously forward with his boar spear
TEMUJIN BORJIGIN bats aside the incoming attack
TEMUJIN BORJIGIN charges BLOC KA BLOCKA with his boar spear!
BLOC KA BLOCKA's target shield is hit by a beastly shot from the side
BLOC KA BLOCKA snaps a quick returning blow, but nearly trips, ruining a good strike
TEMUJIN BORJIGIN darts forward then back, testing his foe!
TEMUJIN BORJIGIN makes an instinctive lunge
TEMUJIN BORJIGIN tries to sweep BLOC KA BLOCKA off his feet with his boar spear
BLOC KA BLOCKA hits the sand hard!
BLOC KA BLOCKA leaps up
* BLOC KA BLOCKA switches to strategy 5
TEMUJIN BORJIGIN darts forward then back, testing his foe!
TEMUJIN BORJIGIN viciously lunges forward
BLOC KA BLOCKA's target shield is hit by a beastly shot while defending its user
TEMUJIN BORJIGIN initiates a breath-taking lunge
TEMUJIN BORJIGIN strikes at the heavens
TEMUJIN BORJIGIN darts forward then back, testing his foe!
TEMUJIN BORJIGIN moves right
TEMUJIN BORJIGIN charges BLOC KA BLOCKA with his boar spear!
BLOC KA BLOCKA leaps magnificently to intercept the blow
TEMUJIN BORJIGIN charges BLOC KA BLOCKA with his boar spear!
BLOC KA BLOCKA leaps over the incoming attack!
BLOC KA BLOCKA defends himself, allowing tiring efforts to be made by his opponent.
BLOC KA BLOCKA charges TEMUJIN BORJIGIN with his boar spear!
TEMUJIN BORJIGIN expertly parries the blow, and is readied in an instant!
TEMUJIN BORJIGIN lunges quickly
TEMUJIN BORJIGIN feigns an attack to get past BLOC KA BLOCKA's target shield!
TEMUJIN BORJIGIN tries to sweep BLOC KA BLOCKA off his feet with his boar spear
BLOC KA BLOCKA descends painfully, clutching one knee!
BLOC KA BLOCKA rises painfully from the dirt
BLOC KA BLOCKA defends himself, in an attempt to waste the energy of his opponent.
BLOC KA BLOCKA initiates an assault boar spear darting like a demon
BLOC KA BLOCKA decidedly aims for TEMUJIN BORJIGIN's rib cage with his boar spear
BLOC KA BLOCKA's aimed attack hits!
The strike fails to impress even the Peasant Scum
BLOC KA BLOCKA steps back for better balance
BLOC KA BLOCKA defends himself, in the hopes of exhausting his opponent.
BLOC KA BLOCKA charges TEMUJIN BORJIGIN with his boar spear!
TEMUJIN BORJIGIN leaps out of the way with great prowess

MINUTE 2
The referee gruffly says 'Knock'em flat with big stone bat!'
BLOC KA BLOCKA defends himself, waiting for fatigue to eliminate his opponent.
BLOC KA BLOCKA makes an attack against the beastly TEMUJIN BORJIGIN
BLOC KA BLOCKA lashes out suddenly, but fails to hit home
BLOC KA BLOCKA defends himself, expecting to tire out his opponent.
BLOC KA BLOCKA makes a surprise attack with his target shield!
BLOC KA BLOCKA makes an attack toward TEMUJIN BORJIGIN's chest
BLOC KA BLOCKA successfully lands the aimed attack
The ill-fated blow accomplishes little
BLOC KA BLOCKA defends himself, looking to make an overtaxed casualty of his opponent.
BLOC KA BLOCKA makes a daring move with his boar spear
TEMUJIN BORJIGIN miraculously deflects the deadly shot
TEMUJIN BORJIGIN charges BLOC KA BLOCKA with his boar spear!
TEMUJIN BORJIGIN tries to sweep BLOC KA BLOCKA off his feet with his boar spear
BLOC KA BLOCKA tumbles gracelessly to the ground!
BLOC KA BLOCKA rises up from the lower altitudes!
The referee says 'Don't trip, like bone-head dip!'
BLOC KA BLOCKA defends himself, in the hope that exhaustion will doom his opponent.
BLOC KA BLOCKA seeks to lay waste with his boar spear
TEMUJIN BORJIGIN has plenty of room to dodge
TEMUJIN BORJIGIN charges BLOC KA BLOCKA with his boar spear!
BLOC KA BLOCKA's target shield is hit by a beastly shot and it defends the warrior from harm
TEMUJIN BORJIGIN seeks to smite BLOC KA BLOCKA
TEMUJIN BORJIGIN darts in on BLOC KA BLOCKA, circumventing the agile parry!
TEMUJIN BORJIGIN thrusts at BLOC KA BLOCKA's unmentionables
An unimpressive injury occurs
BLOC KA BLOCKA's stomach aches from the effects of an old wound
TEMUJIN BORJIGIN darts forward then back, testing his foe!
TEMUJIN BORJIGIN lunges uncertainly
BLOC KA BLOCKA weaves a dizzying path, and masterfully blocks the strike
BLOC KA BLOCKA defends himself, in an attempt to waste the energy of his opponent.
BLOC KA BLOCKA seeks to destroy TEMUJIN BORJIGIN
TEMUJIN BORJIGIN easily blocks the shot!
TEMUJIN BORJIGIN initiates a breath-taking lunge
TEMUJIN BORJIGIN attempts to skewer BLOC KA BLOCKA's right breast
BLOC KA BLOCKA partially deflects the deadly blow with his target shield
The blow lands with little force
BLOC KA BLOCKA's chest heaves with the pain of an old injury
* BLOC KA BLOCKA switches to strategy 4
TEMUJIN BORJIGIN initiates a breath-taking lunge
BLOC KA BLOCKA bats aside the incoming attack
BLOC KA BLOCKA takes advantage of the awkward attack and attempts to skewer TEMUJIN BORJIGIN
BLOC KA BLOCKA decidedly aims toward TEMUJIN BORJIGIN's head with his boar spear
BLOC KA BLOCKA strikes home with an aimed attack
BLOC KA BLOCKA has landed a potentially critical blow!
A respectable wound occurs
BLOC KA BLOCKA says 'BLOC KA BLOCKA!!!'
TEMUJIN BORJIGIN leaps in viciously boar spear feverish with violence
TEMUJIN BORJIGIN strikes out at BLOC KA BLOCKA's left leg
TEMUJIN BORJIGIN successfully lands the aimed attack
The sight of blood cheers the fans

MINUTE 3
TEMUJIN BORJIGIN darts forward then back, testing his foe!
TEMUJIN BORJIGIN strategically advances to the rear
TEMUJIN BORJIGIN lunges quickly
TEMUJIN BORJIGIN drives a blow toward BLOC KA BLOCKA's left thigh
TEMUJIN BORJIGIN successfully hits with an aimed strike
Newly spilled blood stains the grounds!
BLOC KA BLOCKA is beat all to hell!
* BLOC KA BLOCKA switches to strategy 3
BLOC KA BLOCKA shifts subtly to the right
BLOC KA BLOCKA anxiously awaits his enemy's upcoming blunder...
BLOC KA BLOCKA guides a strike at the blur-like TEMUJIN BORJIGIN
BLOC KA BLOCKA tries to pierce TEMUJIN BORJIGIN's right arm
Blood squirts out
TEMUJIN BORJIGIN lunges quickly
BLOC KA BLOCKA's target shield is hit by a beastly shot and comes away unscathed
BLOC KA BLOCKA makes use of the inadequate attack and attempts to skewer TEMUJIN BORJIGIN
BLOC KA BLOCKA stabs out at TEMUJIN BORJIGIN's left foot
A weak blow is landed
TEMUJIN BORJIGIN charges BLOC KA BLOCKA with his boar spear!
TEMUJIN BORJIGIN tries to pierce BLOC KA BLOCKA's forehead
TEMUJIN BORJIGIN's blow avoids BLOC KA BLOCKA's helm!
Blood pours from the victim!
BLOC KA BLOCKA's ability to fight is impaired by wounds!
TEMUJIN BORJIGIN lunges skillfully forward
TEMUJIN BORJIGIN feigns an attack to get past BLOC KA BLOCKA's target shield!
TEMUJIN BORJIGIN tries to sweep BLOC KA BLOCKA off his feet with his boar spear
BLOC KA BLOCKA falls to the ground!
BLOC KA BLOCKA barely manages to stand
BLOC KA BLOCKA anxiously awaits his opponent's unavoidable mis-step
BLOC KA BLOCKA makes an explosive assault with his boar spear
TEMUJIN BORJIGIN crashes masterfully against the offending weapon!
BLOC KA BLOCKA's boar spear breaks under the impact!
BLOC KA BLOCKA switches his backup boar spear to his primary hand!
TEMUJIN BORJIGIN lunges uncertainly
BLOC KA BLOCKA effortlessly parries the blow
BLOC KA BLOCKA follows through on the parry, but misjudges a strike
Some Bozo shouts out 'We hate your guts, BLOC KA BLOCKA!'
BLOC KA BLOCKA anxiously awaits his opponent's imminent mistake
BLOC KA BLOCKA attacks urgently with his boar spear
BLOC KA BLOCKA plots devastating injury for TEMUJIN BORJIGIN's rib cage with his boar spear
BLOC KA BLOCKA successfully hits with an aimed strike
A satisfactory crunch is heard
BLOC KA BLOCKA says 'BLOC KA BLOCKA!!! BLOC KA BLOCKA!!! BLOC KA BLOCKA!!! BLOC KA BLOCKA!!!'
TEMUJIN BORJIGIN makes an instinctive lunge
TEMUJIN BORJIGIN crashes into the arena's wall!
TEMUJIN BORJIGIN charges BLOC KA BLOCKA with his boar spear!
TEMUJIN BORJIGIN tries to sweep BLOC KA BLOCKA off his feet with his boar spear
BLOC KA BLOCKA goes down in a pile of blood, sweat, and tears!!
BLOC KA BLOCKA's secondary leg is causing trouble - the trouble of pain
BLOC KA BLOCKA passes away, and is carried off to attend a funeral.
TEMUJIN BORJIGIN is rewarded with cheers from the crowd!!

---

This is what I get for reading my turn on two different computers. I either failed to upload Bloc Ka Blocka's revised monster strategy or overwrote it with his standard strat. On medium damage he would have protected his primary leg, which would have helped a bit with the sweeps.

I will followup with his stats/skills and commentary, as on this computer I forgot to do a screen grab before creating his replacement.

Tankards high to Frank The Tank for creating such a mean warrior with TEMUJIN BORJIGIN!

vV


Vic Vegas

Pit God





Posts

: 1056



Better luck next time, Vic!
I've made same mistake before by using two computers like that - no fun.

Dux Mortalitas

Pitt Lord





Posts

: 908



Hey, at least this time I remembered to stick a quadruple thick post-it note next to BLOC KA BLOCKA's name so I wouldn't see the red splat or the beer mug.

Live and learn... or die.

vV

Vic Vegas

Pit God





Posts

: 1056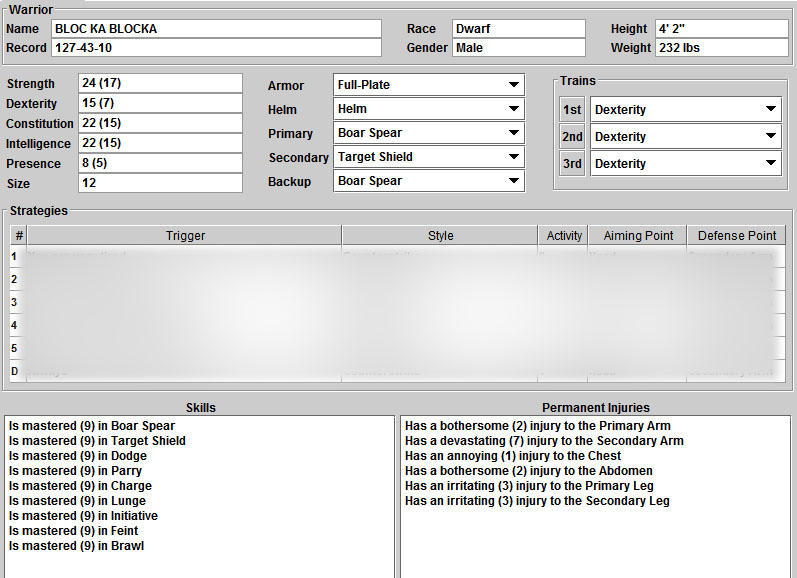 It was BLOC KA BLOCKA's (83-22-6) 106th fight on turn 613 against DRACHIR's MOSSY ROCK (83-62-5) that gave him the lvl 7 secondary arm perm.
MOSSY ROCK swiftly engages the mighty BLOC KA BLOCKA
MOSSY ROCK attempts to smash BLOC KA BLOCKA's left arm
MOSSY ROCK has landed a potentially critical blow!
The blow rearranges anatomy!
The Blood Master chuckles quietly at the devastating blood-bath!
BLOC KA BLOCKA has been permanently injured in the shield arm!!!
BLOC KA BLOCKA is in need of healing!
The ref allows the extrication of BLOC KA BLOCKA!
MOSSY ROCK looks askance at the fallen enemy!

BLOC KA BLOCKA has trained in Constitution
MOSSY ROCK has trained in
---
Since that fight I had considered BB to be disposable. For a while I didn't even bother to protect his secondary arm, but as his trains kept piling up, I realized I had a potential monster on my hands.
When all three of my great Boar Spear Counter Strike Dwarves were alive, FRISA (R.I.P. 107-27-9) and THWACK (R.I.P. 102-30-6) and BB, I had them racing to see who would get beastly strength first. This probably handicapped the other two from life saving trains in skills or other stats, because both FRISCA and THWACK sat at 23 strength until they died.
Yes, do feel a pang of guilt for exploiting a bug and ending the careers of 25 gladiators and perming countless more. They were a great CS laboratory from which my most successful offshoot is MURMUR (90-38-5) a fun-loving, war flail CS dwarf.
BLOC KA BLOCKA's last train to come in was his masters in Init, when it should have been a masters in Don't Fall Down.
vV

Vic Vegas

Pit God





Posts

: 1056





Similar topics
---
Permissions in this forum:
You
cannot
reply to topics in this forum